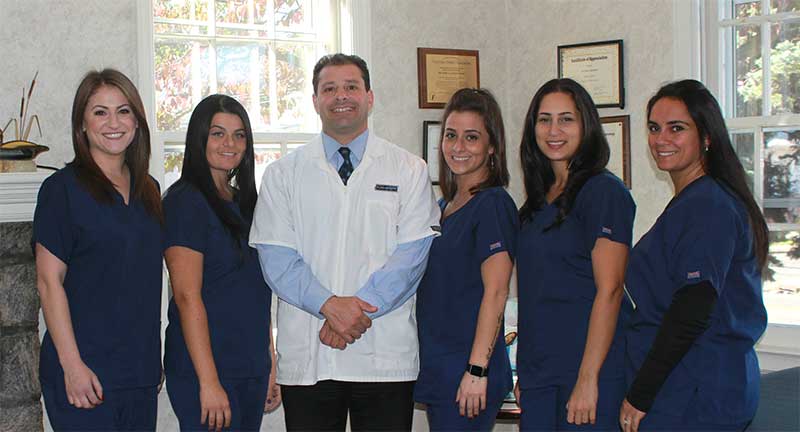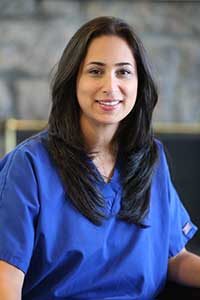 Rosalie – Dental Hygienist
While completing the Dental Hygiene program, Rosalie worked as a Dental Assistant for Dr. Constantine in 1999. After successfully earning her Dental Hygiene License in 2001, Rosalie obtained a full time Hygienist position in the practice – and the rest is history! Having worked with us for almost 20 years, Rosalie is very well known among our patients.
She continues to build upon her knowledge of patient care and advancements, including Invisalign treatment and is certified to administer Local Infiltration Anesthesia. Rosalie's true love is spending time with her two young boys. She demonstrates the same caring and gentle demeanor to her children and patients alike.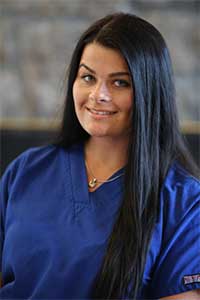 Danielle - Dental Hygienist
Registered Dental Hygienist and office Invisalign coordinator, Danielle Schepis, decided to become a Hygienist because she knew it would be rewarding to help people obtain and maintain a healthy smile. She has worked diligently towards that goal over the past 6 years in our office. By putting her patients' dental knowledge and home hygiene instructions first, she has been successful helping her patients achieve a happy and healthy smile. Newly a mom in 2017, one of her happiest moments was when her daughter got her first tooth! 
What Danielle Says about being a Hygienist:
"Dental Hygiene is such a fulfilling career. Working for Dr. John Constantine has allowed me to give my patients the best treatment and knowledge to achieve and maintain dental health."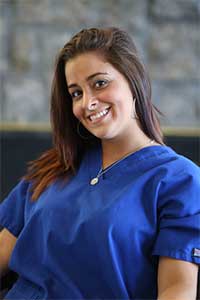 Deanna - Dental Assistant
Deanna has been a valuable member of our team since 2012. Her bubbly personality and emphasis on patient care allows her to build meaningful relationships with everyone who walks through the door. Deanna takes pride in providing all patients with a relaxed and comfortable environment. Being a true team player, she is always ready and willing to help everyone in the office!
Outside of work, Deanna enjoys hanging out with her family & friends, skiing and spending time with her Fur babies!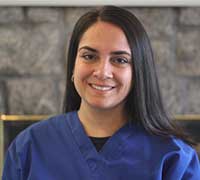 Giulia- Office Manager
Giulia is the longest tenured employee of Dr. Constantine's, having been here for almost 20 years! Starting just a few months after the office originally opened, Giulia has helped Dr. Constantine run an effective and thriving dental practice. A familiar face to our long time existing patients, Giulia continues to establish lasting relationships with old and new patients alike. Along with her managerial skills, Giulia knows all the ins and outs of the office. She is able to assist the doctor with business decisions, as well as dental procedures. She really does it all!
When she's not at the office, Giulia and her husband are busy raising a family of their own. She definitely has her hands full these days with a teenage daughter and two baby boys, just 15 months apart!
Dana- Office Administrator
Dana is the new face at the front desk. She loves to find ways to make people smile. she is happy to answer your questions, book your appointments, help resolve concerns and make your visits positive. Dana enjoys all things out doors with her family.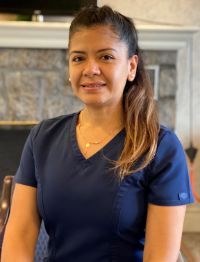 Nancy- Dental Assistant
Nancy has been in the dental field for over ten years and joined our team in June 2019. During this short period of time, Nancy has quickly adapted to our team and has become a familiar face to our patients. With great focus to the experience of our patients, Nancy takes pride in being a part of their new smiles. In her free time, Nancy enjoys watching movies with her husband and 3 daughters.
"Since I've started, I have already enjoyed getting to know our patients and growing with this practice!"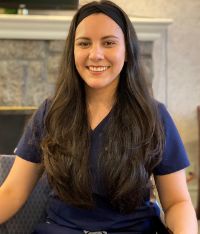 Elisa- Dental Hygenist
Elisa earned her bachelor of science degree from Iona College in 2015 and then decided to return to school for her Associate of Applied Science degree at the New York University College of Dentistry. Elisa is certified to administer anesthesia and monitor local infiltration anesthesia and nitrous oxide analgesia. She is a Basic Life Support provider and also holds a certificate of completion training in Infection Control, has completed coursework at NYU for child abuse and is trained in treating children and adults with autism. When she is not working, Elisa loves to spend time with her family.